SOLO VIOLIN is wonderful for a small intimate wedding or great as a cost effective option.  The violin is louder than one would think, and the music carries quite far. I have played solo violin in both large and small weddings, inside and outside, and in private homes and churches.  I can play traditional classical music to popular/contemporary music.
THE WEDDING MUSICIANS
I have been performing professionally at weddings and special events all across San Diego County for 20 years. From solo violin to string quartet, I have played in every imaginable formation for events all across San Diego, Orange, and Los Angeles Counties. I am comfortable playing in all sorts of venues from Silver Strand beach, The Immaculata at University of San Diego, and on the lawn at The Fairmont Grand Del Mar.  My colleagues are top professional musicians from San Diego and Orange County. They play in San Diego Symphony Orchestra, and Pacific Symphony Orchestra in Orange County. Not only are these musicians highly skilled, but they are also my good friends with whom I love to make music.
PLEASE VISIT MY OTHER WEBSITE AVONLEA STRINGS FOR STRING DUO, TRIO, QUARTET
www.AvonleaStrings.com
ENSEMBLES AVAILABLE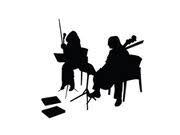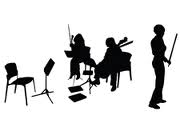 String Duo (Violin, Cello) or (Violin, Violin)
String Trio (Violin, Viola, Cello) or (Violin, Violin, Cello)
String Quartet (Violin, Violin, Viola, Cello)
RATES
The wedding music rates are based on group chosen, time frame, and location of wedding.  When asking for a quote please make sure to include the date, time, and group(s) in which you are interested.
THE WEDDING
Prelude 
Music as the guests are arriving.  This can start anywhere from 15 minutes to 30 minutes before the start of your wedding
Ceremony
Music for the seating of Mothers/Grandparents
Music for Bridesmaids and/or Wedding Party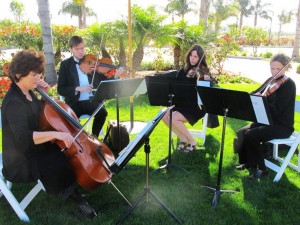 Music for Bride
Music played softly under Candle Lighting/Sand Ceremony/Wine Ceremony

Recessional
Music directly after the KISS and "I now present Mr. and Mrs. . ." or "Mazel Tov!"
Cocktail Hour
Dinner Music